A Business Built on The Strength of a Recipe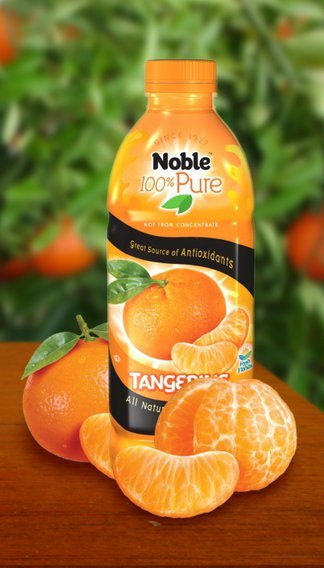 by Misann Ellmaker
Experts said it couldn't be produced on a commercial scale, but Marjorie Roe's sons built Noble Juice based on the strength of her recipe for tangerine juice. Although traditionally considered bitter, Marjorie studied "sweet zones" for different types of tangerines and a way to mix them to make a sweet-tasting juice. The sweet taste has led to a sweet business that boasts five varieties of premium organic and six varieties of all-natural juice. It has also led to a business where sustainability is top priority.
In 2006, Noble Juice was the first company in the world to package juice in an eco-friendly bottle made entirely from plants. That earned Noble Juice a Produce Marketing Association (PMA) Impact Award for Environment and Sustainability Excellence in Packaging. PMA Executive Committee Chairman Bruce Taylor says, "Packaging offers rich opportunities to promote branding and to advance key initiatives such as sustainability."
Americans use 2.5 million plastic bottles every hour and recycle only 27.5%, according to Environmental Protection Agency figures. Plastic bottle production uses millions of barrels of crude oil. According to National Geographic Green Living, "if you were to fill one quarter of a plastic water bottle with oil, you would be looking at roughly the amount used to produce that bottle." Depending on the size and type, most plastic bottles require 450 to 1,000 years to decompose. "The numbers say it all," said Quentin Roe, President and CEO of Noble Juice. "We think there's a better way."
Noble Juice bottles and labels generate 75% fewer greenhouse gases and require 46% less energy to produce than traditional plastics. Energy and oil are saved, and the bottles can be recycled or naturally decompose within 100 days. The Noble Juice website states, "The key to delicious juice is treating the fruit well before it is juiced." As it turns out, the key to taking care of our environment is making good choices about products and packaging before we produce and consume them.